Updated September 2020
This post may contain affiliate links and I might earn compensation when you click on the links at no additional cost to you.
Over the last few years, I've become an extreme minimalist living out of my suitcase while traveling full-time.  I hardly buy anything now but when I do shop it's usually for travel gear or Liverpool FC gear and I purchase everything online!
Since I am obsessed with purchasing Liverpool FC gear and representing my club in any way possible I thought I would share some of my favorite websites where I find my favorite gear.  I might be biased but I think these are the best places for Liverpool FC supporters to shop online.😂
The Anfield Shop is where I purchase a lot of my Liverpool FC gear and for several reasons.  They are a local shop for North American Liverpool supporters and they sell home jerseys, away jerseys, women's jerseys, training kits, other Nike gear, and more.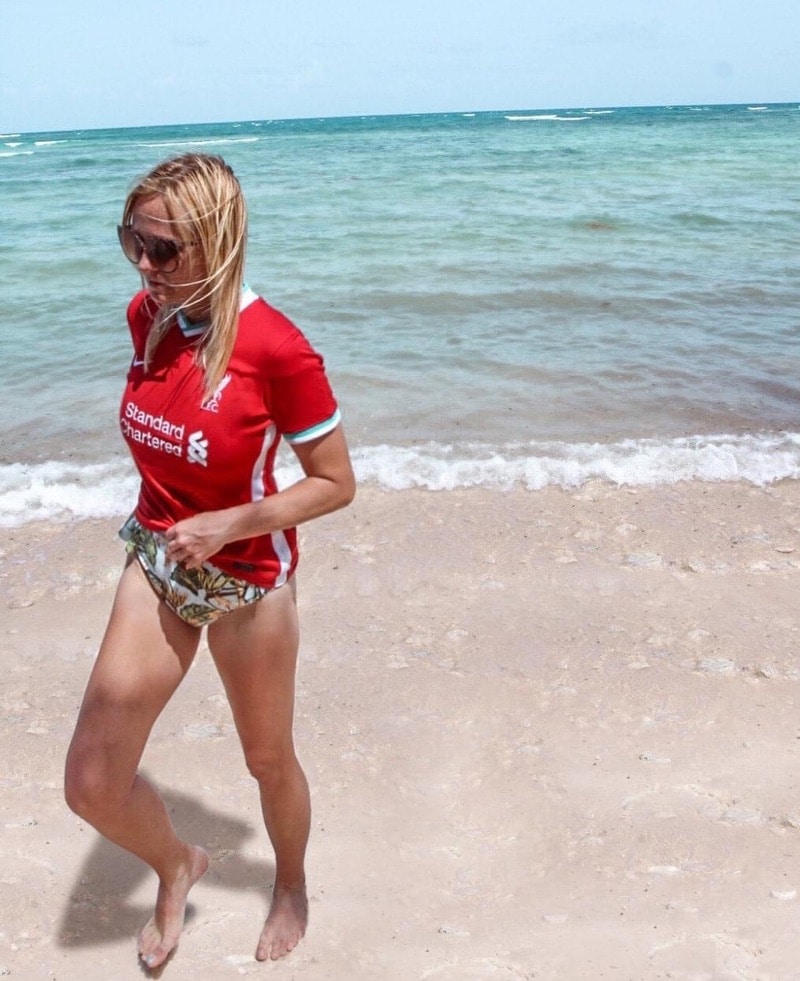 I purchase my new Liverpool FC jerseys from the Anfield shop every year.  
My favorite out everything that the Anfield Shop sells is the player t-shirts!  I have been buying these player t-shirts for years which are sold for both men and women.  The t-shirts are an affordable option for those who don't want to shell out the money for a brand new Liverpool FC jersey.  What I like about these player t-shirts is that they usually come with a nice design on the front and a name and the player's name and number are always on the back.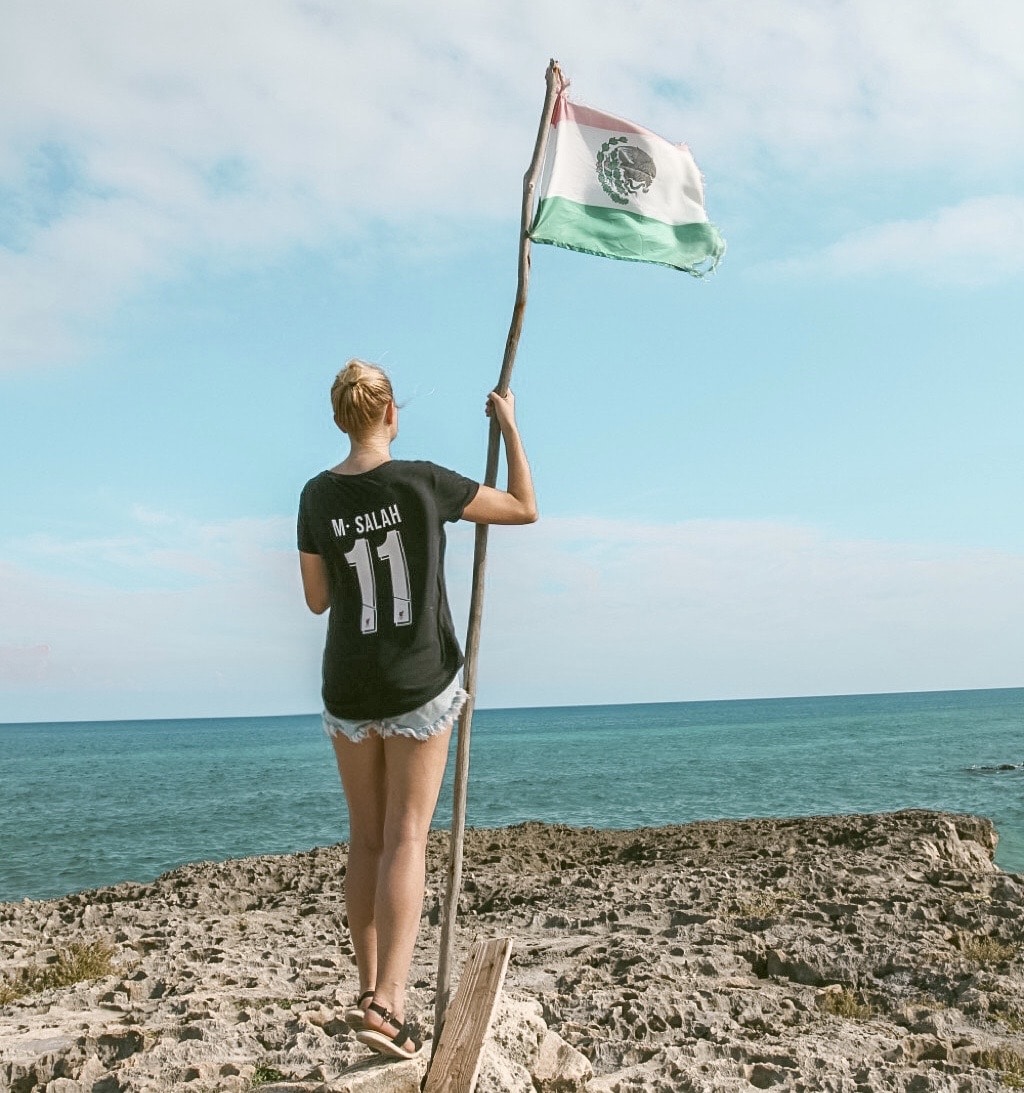 In Mexico wearing the new player t-shirt that the Anfield Shop is currently selling in 2020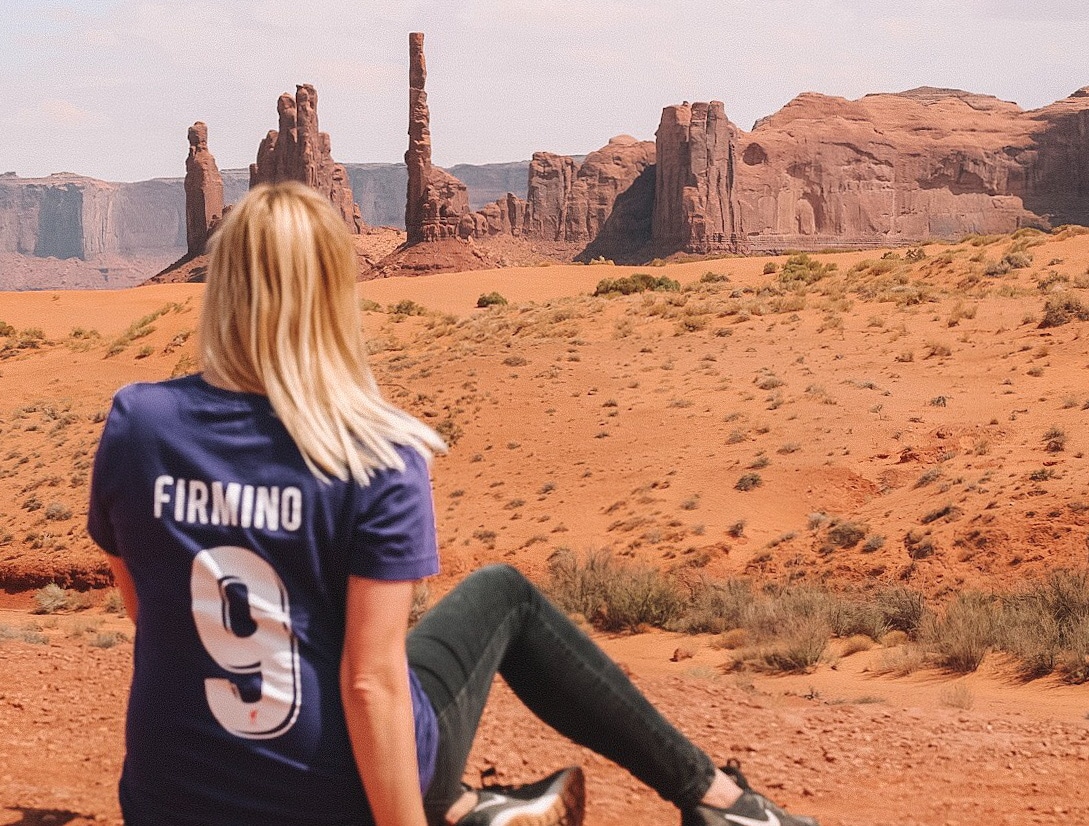 Wearing the Firmino player t-shirt in Utah in 2018.  This was the men's t-shirt and the Anfield Shop is now selling an updated version of the player t-shirts. 
I also purchase coats, jackets, scarves, caps, and more from the Anfield Shop.  I prefer to shop with them over the big corporate stores because they are local to North America, it's a female-owned business, the owner is well connected with supporters groups in North America, and the company has fantastic customer service.  The only drawback for my readers is for those who are located outside of the USA and Canada.  Unfortunately, the Anfield Shop only ships to addresses in these two countries.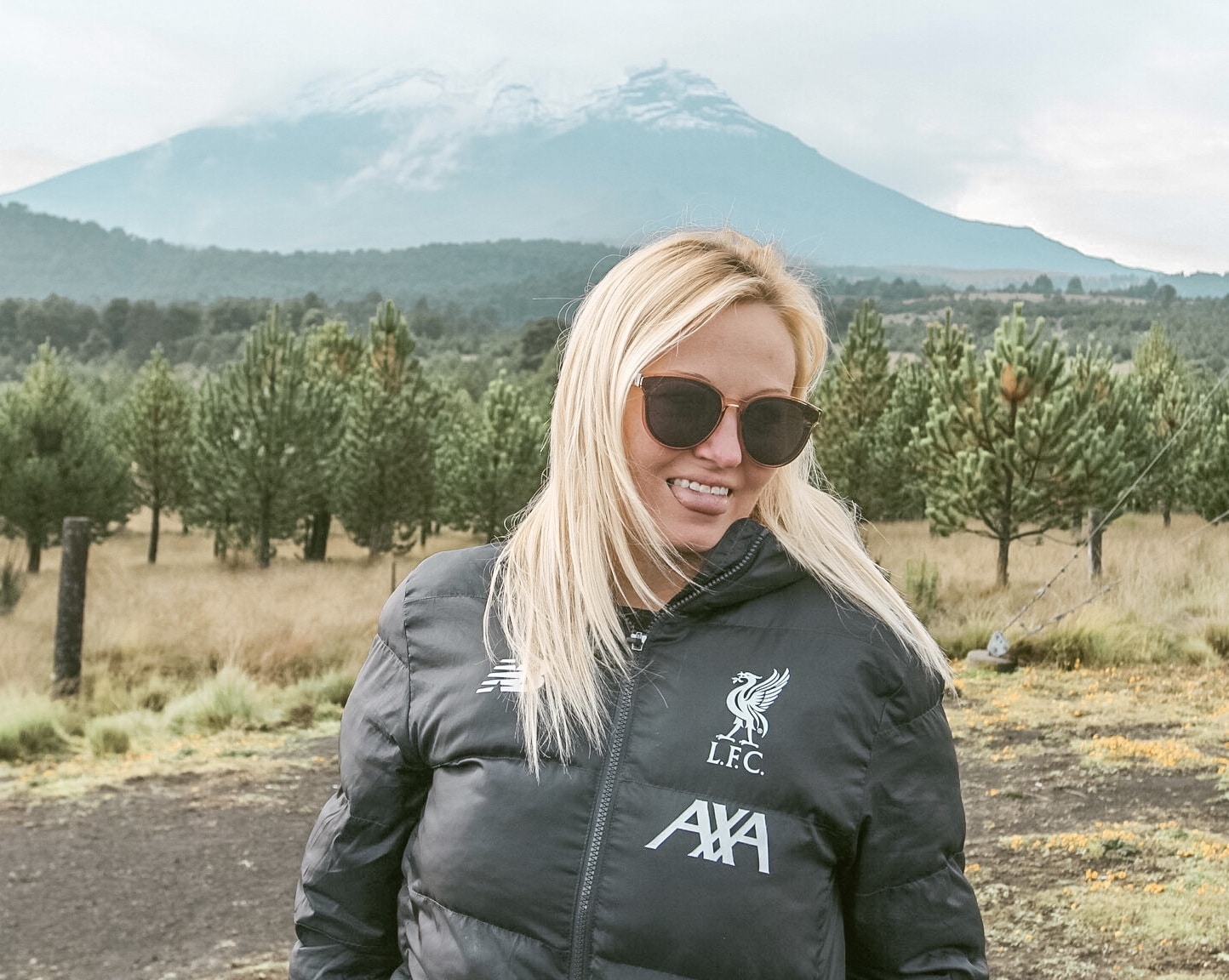 Wearing the 2019-2020 Liverpool FC Newbalance coat that I purchased from the Anfield Shop.  
If you're an LFC supporter living in The United States or Canada then I highly recommended checking out what they are selling.  Click here to go to their website.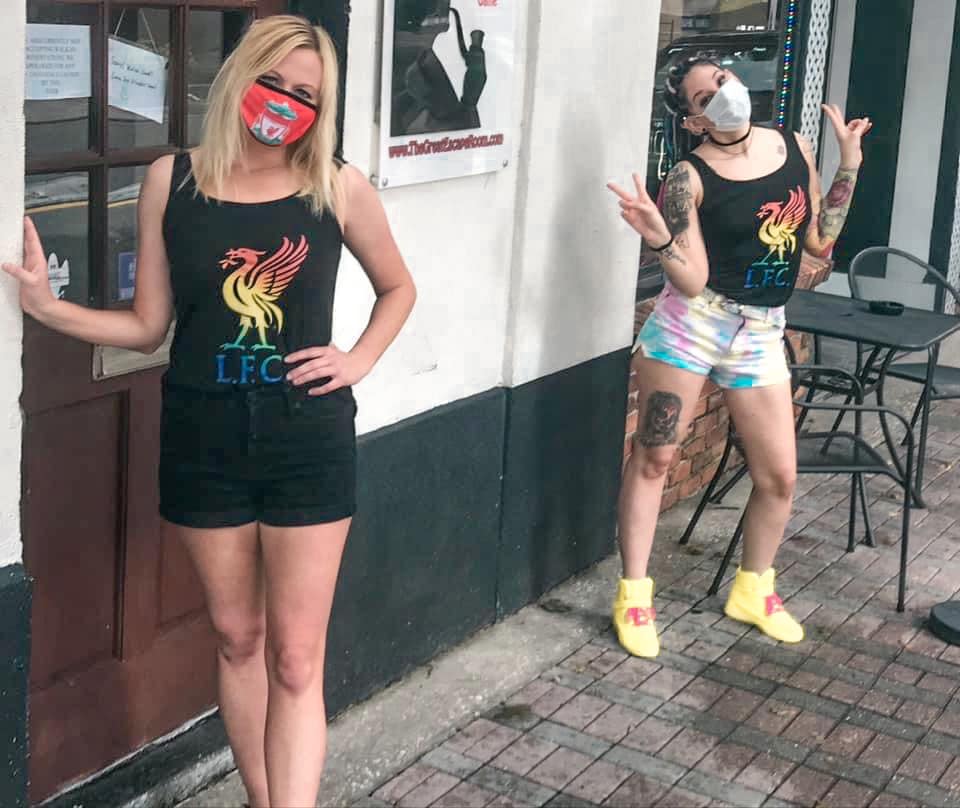 This is another t-shirt design from The Anfield Shop.  They seriously sell some of the best gear!  
I LOVE THIS BRAND!
Love Follow Conquer is an independently owned Liverpool based company selling some of the most unique Liverpool FC t-shirts out there.   Not only are they offering really cool gear but they donate 10% of their profits to local Liverpool food banks and charities.  During the pandemic, they've donated over 4,000 pounds to local charities!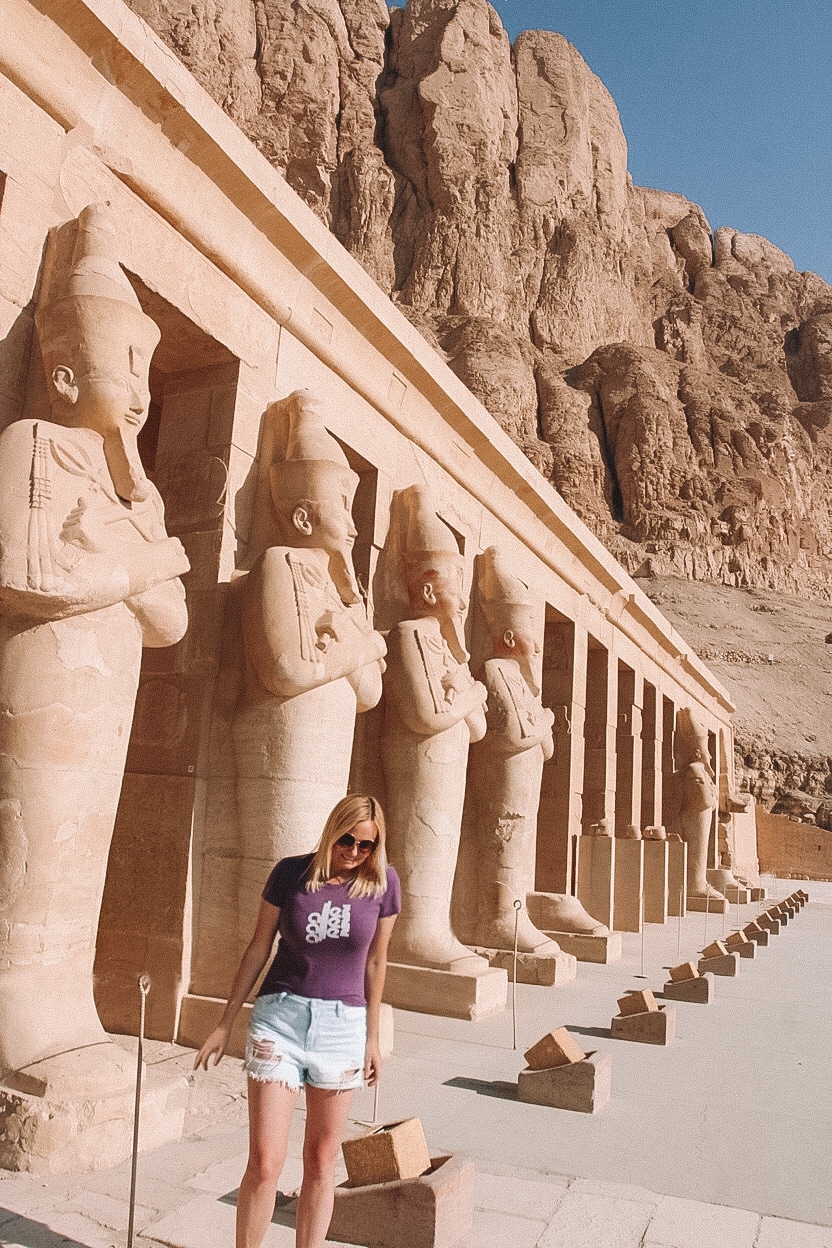 Love Follow Conquer sells unique Liverpool FC shirts such as this Allez Allez Allez shirt!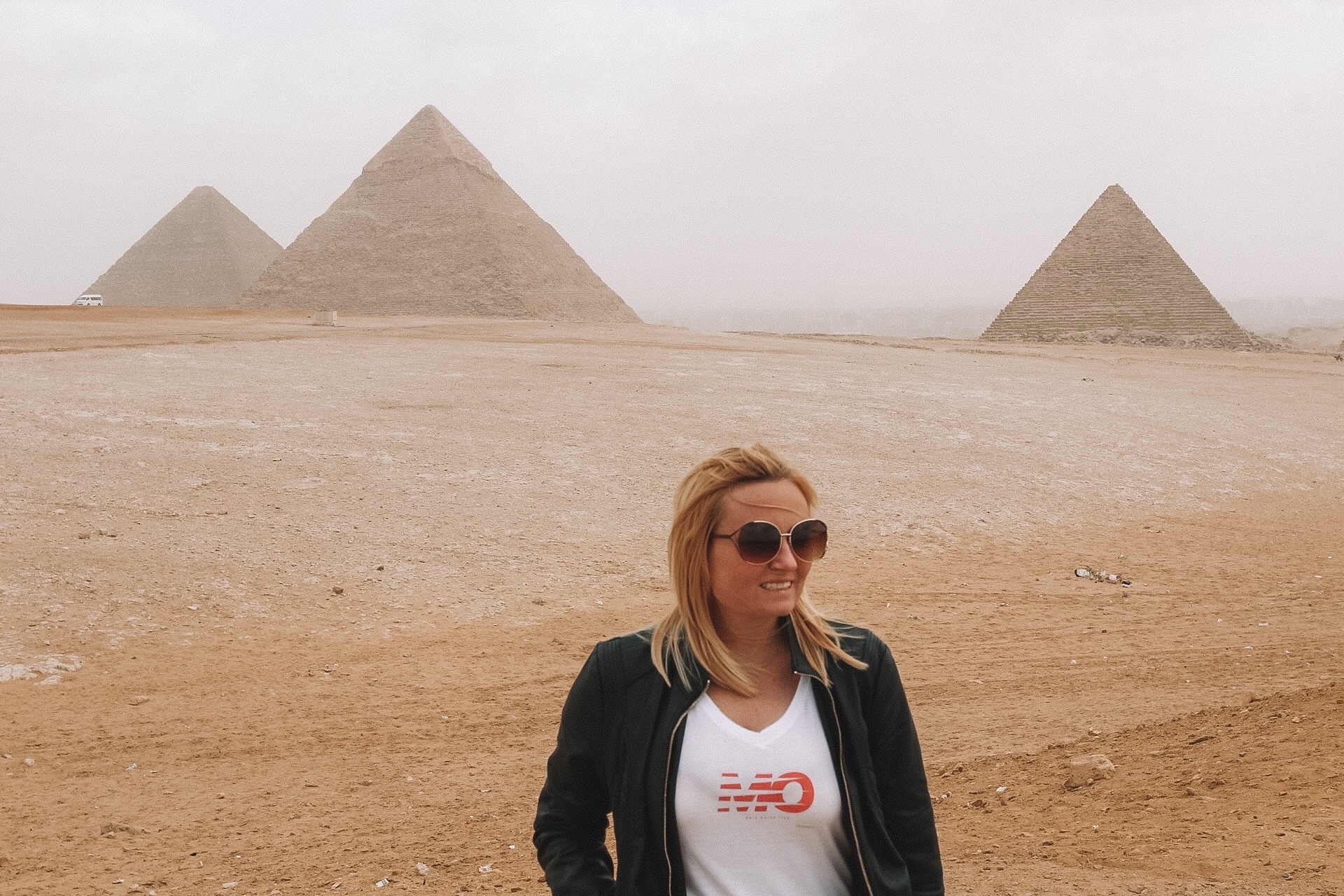 Love Follow Conquer also sells unique player t-shirts and Klopp t-shirts.  I got this Mo shirt that I just had to wear in front of the Egyptian Pyramids!
Love Follow Conquer sells Liverpool FC themed t-shirts, sweatshirts, polos, and jackets.  The company delivers their merchandise within the UK, Europe, USA, and in many other countries across the world.  They also sometimes offer special deals for USA supporters including free shipping!  Just check out the latest on their website here.
I have been ordering a lot of Liverpool FC face masks from Amazon and I'm going to share links to my two favorites here.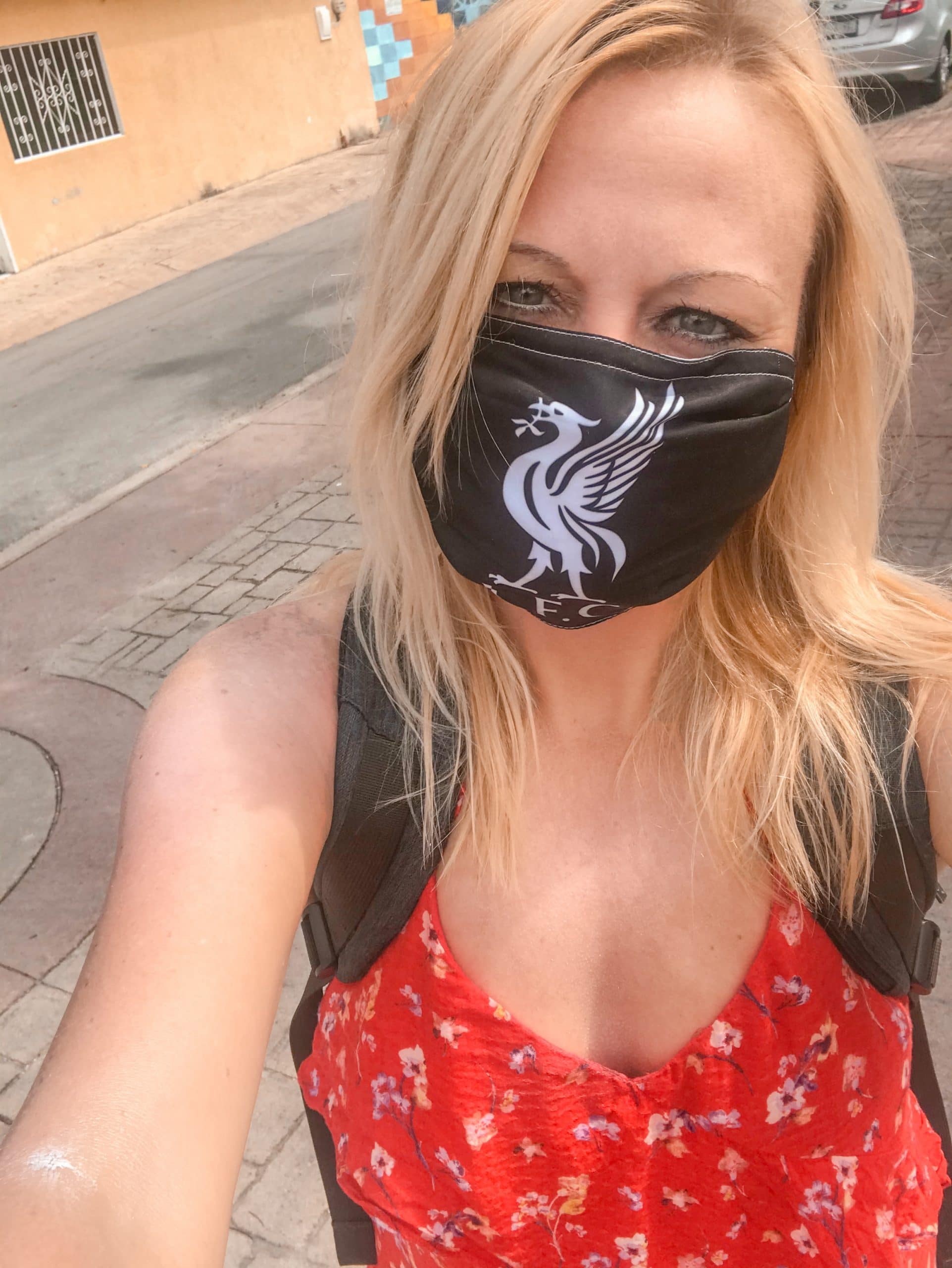 This versatile black and white LFC face mask is my absolute favorite!  Click here to check this out on Amazon.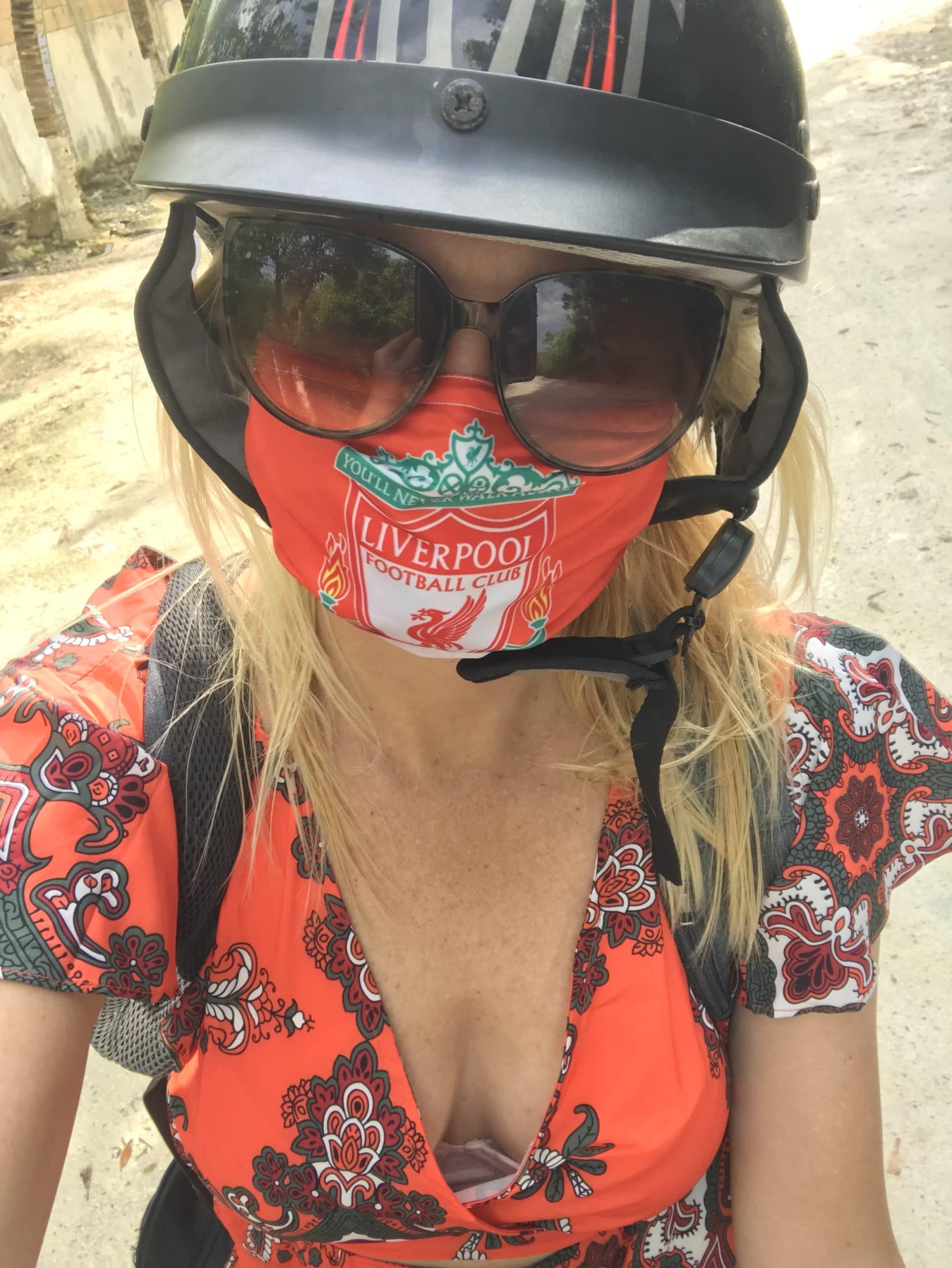 I also love this red Liverpool FC face mask.  Click here to buy this one on Amazon.
This is my new favorite brand selling Liverpool FC gear!  The only catch to buying from American Scouser is that they ship to USA addresses only.  However, if you are located in the United States then you won't be disappointed by what they are selling.  Check out this unique Liverpool 19 Champions shirt below that I have from them!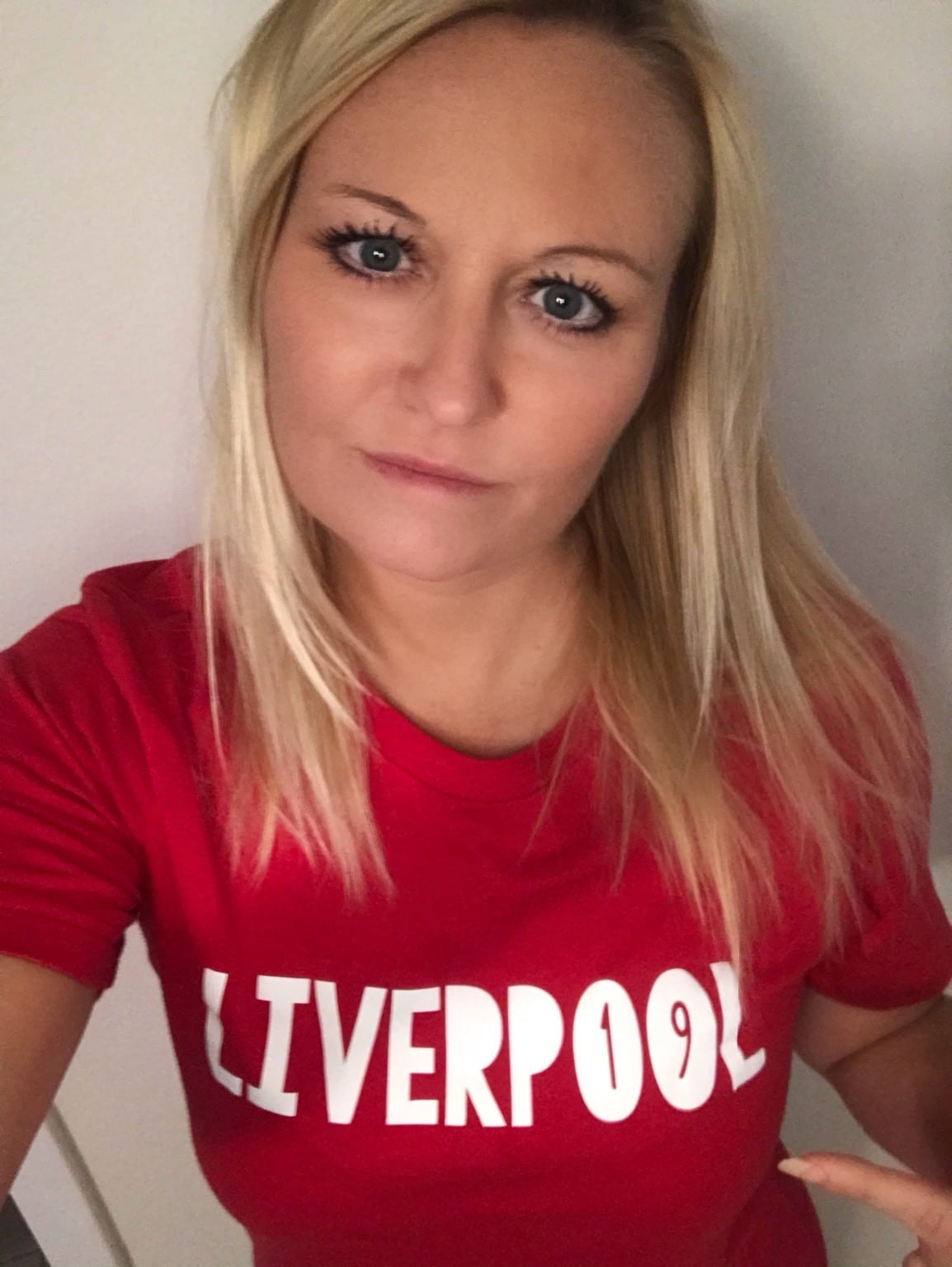 The American Scouser guys are selling American Scouser themed t-shirts, Never Give Up t-shirts, Unbearables t-shirts, Liverpool leggings, and more!  I love their attire and if you're a supporter based out of the United States you should check them out by clicking here.
The last company I'll mention here is SketchGraphics!  I love this company because it's a female-owned business with great customer service offering items that are perfect gifts for holidays and birthdays!  You can actually purchase football items for any major Premier League club but the owner is a Liverpool FC supporter.😀
As many of you know, I am a full-time nomad and I don't have an actual home, however, I do keep a few items at my parent's house including my favorite Liverpool FC mug.  Check out the photo below with the awesome 19 Champions mug from SketchGraphics.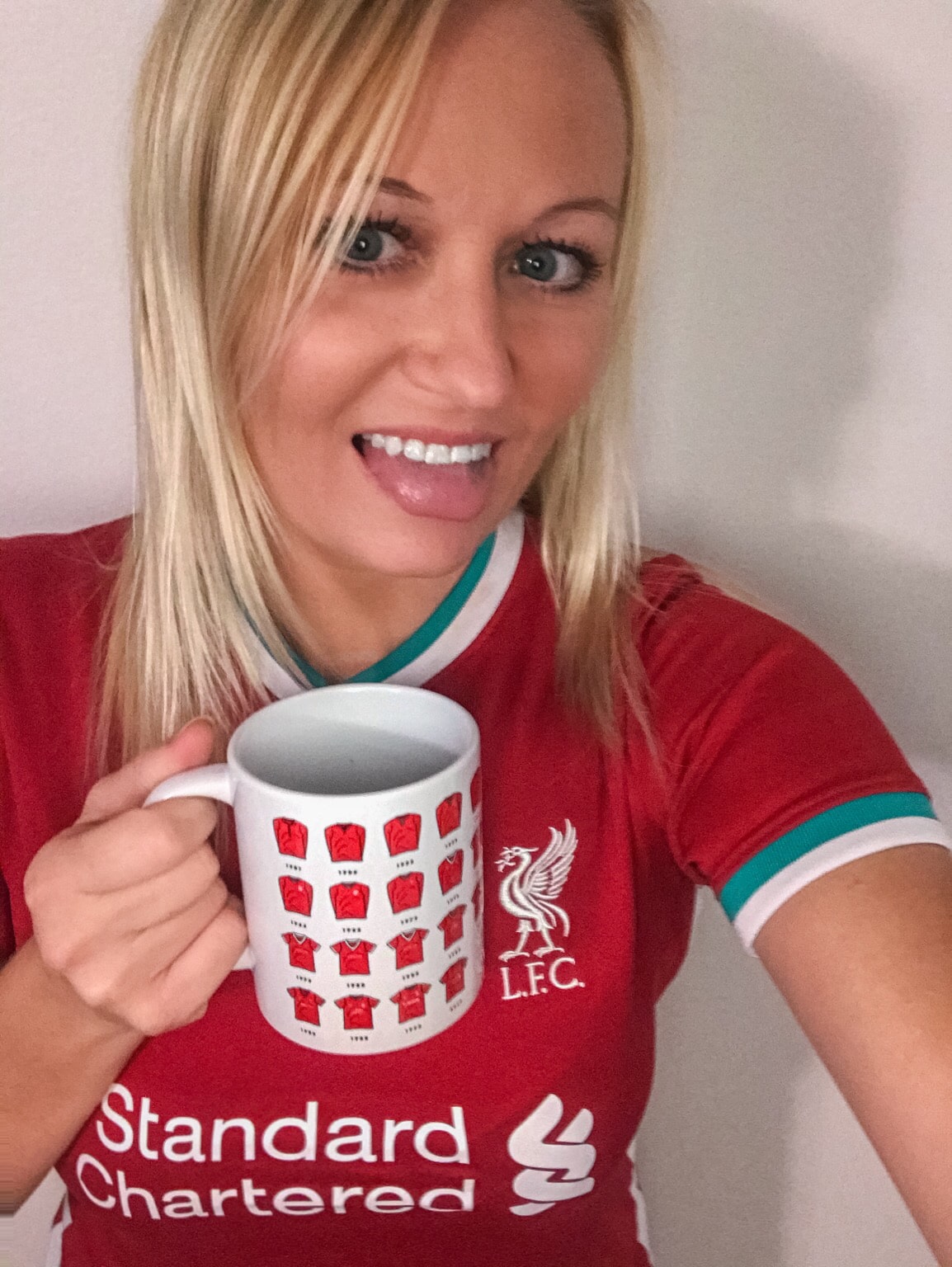 SketchGraphics offers free shipping within the UK and global shipping for a fee.  I plan to purchase quite a few items with them for gifts for friends for the upcoming holidays!
Thanks for reading my blog post!  I know there are lots of places where you can buy Liverpool FC gear now, however, these are my personal favorites.  If you have a favorite online shop where you purchase gear then let me know in the comments below.  Also, if you plan to order from these online shops I've recommended then I would love to hear from you as well!