**Please note, this post contains affiliate links to products and services. At no additional cost to you, I might receive a commission for purchases made through these links, which helps me keep the blog up and running.
Prior to the pandemic, the U.S. passport was one of the strongest passports in the world.  U.S. citizens were able to travel visa-free to many countries and almost every country was happy to welcome the American traveler.  However, a lot has changed during the pandemic.  Since the U.S. had some of the highest amounts of cases of the COVID-19 virus many countries have closed their borders to U.S. passport holders.
There are only a few countries that currently accept U.S. citizens without any travel restrictions, and one of those countries is Mexico.  This is one of the main reasons why I chose to travel to Mexico.  Mexico is accepting passport holders from certain other countries and I would check with your own government's travel updates to determine if you are able to travel to Mexico with your passport as well.
Since Mexico is one of the only countries currently accepting U.S. citizens without any restrictions, it has quickly become one of the top destinations to visit during the pandemic.  Many travelers are keen to understand what it is like to travel to Mexico right now, and that's why I decided to write a blog post about my experience traveling to the state of Quintana Roo.  
But should anyone travel right now? 
I am not writing this post in order to encourage anyone to travel right now.  If you do decide to travel during this pandemic then that is your personal choice.  There are many reasons why people are choosing to either travel or choosing to not travel right now, and I'll quickly explain below why I've embraced a bit of travel during this time.
Exploring My Options To Relocate to Mexico
The main reason I traveled to Mexico is for relocation purposes.  Prior to the pandemic, I was a digital nomad who was completely homeless bouncing from country to country while working from my laptop.  I traveled to 53 countries in 6 years and I wrote a blog post explaining the story as to how I was able to afford to travel so much.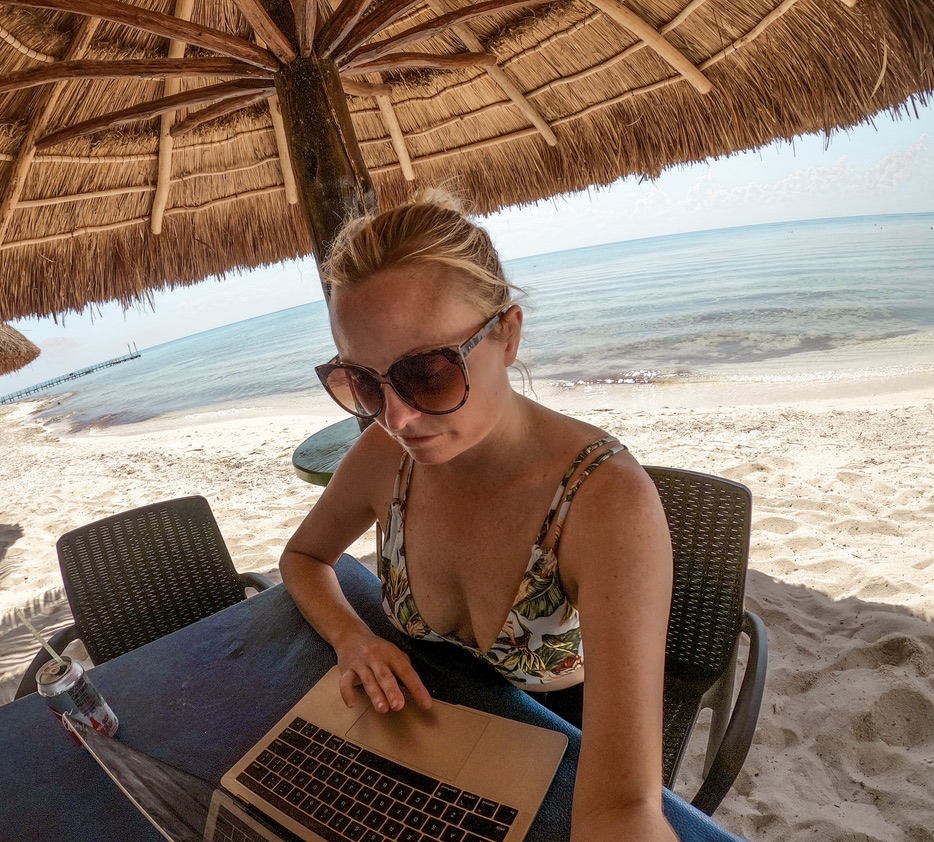 Working remotely from a beach bar in Cozumel, Mexico.
I was in East Africa at the beginning of 2020 and I had zero intentions to move back to the U.S. this year.  However, the pandemic forced me to quickly choose my quarantine location.  Most people quarantined in their own homes but since I don't have an actual home, I decided to quarantine with family and friends.  So on March 17, 2020, I flew from Rwanda to Florida where I stayed put for a few months.
As time has passed during this pandemic I started to realize I needed to find a new permanent residence.  I didn't want to stay in Florida and when a limited amount of travel opened up during the summer, I started to weigh my options.  I looked at relocating to Barbados or Mexico and I finally decided I wanted to explore my options to move to Mexico.  This is why I flew to Cancun.
Flying to Mexico
I traveled to Cancun on a direct flight from Orlando on August 7, 2020. I flew with JetBlue which in my opinion, is one of the best airlines to fly with right now during the pandemic.  Almost all airlines are requiring passengers to wear face masks for the duration of the flight right now, however, not all airlines are enforcing social distancing measures.
I thought JetBlue did a great job enforcing social distancing measures.  Not only is JetBlue blocking off all of their middle seats on flights until at least October 2020, but they also enforced social distancing during the boarding and deplaning process.  The attendants and gate agents made several announcements requesting passengers to practice social distancing and just about every passenger followed these directions.
I almost booked a flight with American Airlines but I decided to book with JetBlue because I had read reviews from other travelers that American Airlines were not blocking the middle seats.  Most American Airlines flights have been full during this time of the pandemic.
Immigration in Cancun, Mexico
Upon arriving in Cancun the immigration process was as usual for travel to Mexico except this time tourists were expected to submit answers to a COVID-19 questionnaire and agree to a temperature screening.  The questionnaire form was very simple to fill out as I had to either check yes or no if I had symptoms.  The form is handed to the immigration officer who inspected my passport.
If you have any symptoms then it's a no-brainer to not travel.  I also recommend taking a COVID-19 test within a few days prior to traveling as I personally feel that this is the responsible thing to do.  However, having COVID-19 test results is not a requirement for entry into Mexico.
I'm not certain what the government will do with someone who arrives at an airport in Mexico with temperature, however, I have been told that there are certain rooms at resorts that are reserved for travelers who do have symptoms.  Apparently many of these resorts have an on-site doctor and provide COVID-19 testing.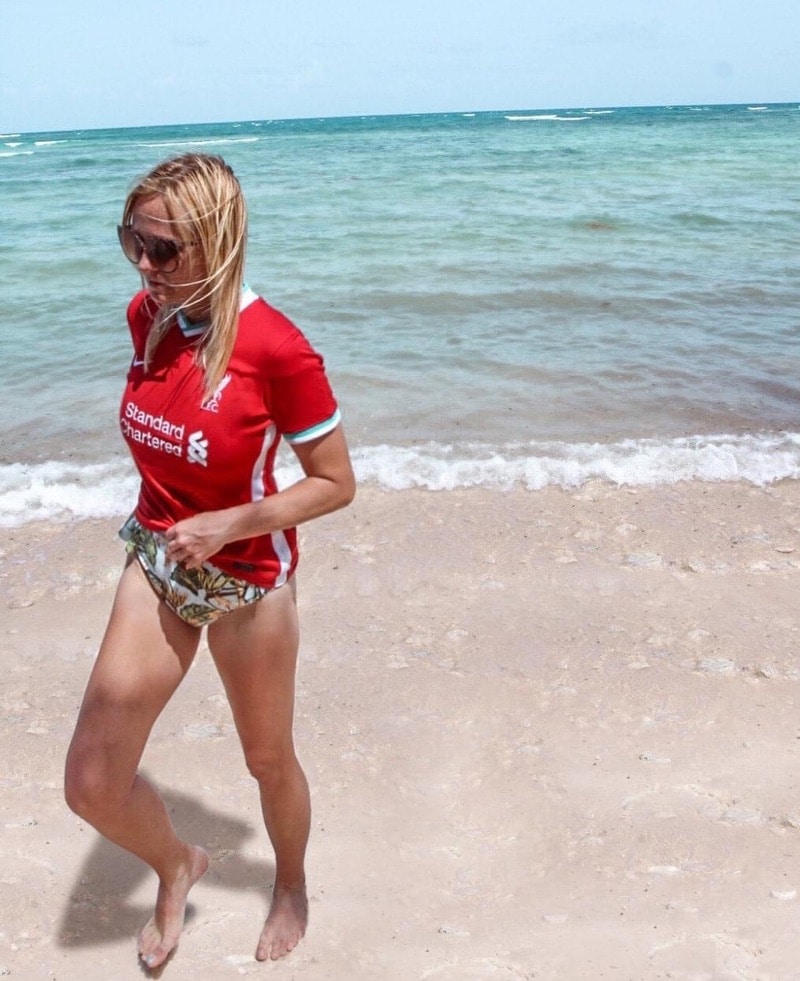 The Cancun airport seemed a bit quiet when I initially flew there in early August and it took only about 15-20 minutes to get through immigration.  However, when I arrived at the airport three weeks later to pick up my rental car the airport seemed to be much busier with a lot more arrivals.  This part of Mexico seemed to get busier and busier with tourists as the time went by.
Pandemic Precautions in Quintana Roo, Mexico
I spent several weeks exploring a few cities and small towns in the state of Quintana Roo, and I can only share my travel experiences in Mexico based on how the pandemic is being handled in that specific state.
There was a bit of a difference in how each area of Quintana Roo was handling the pandemic.  Keep in mind that my experiences listed below all took place in August and early September.  A lot can change with this pandemic and although the laws in Mexico seem to remain firm, the laws are also not as strict in some parts and they might not be as enforced.
Mask Mandate
The entire country is currently under a strict mask mandate.  When I mention strict, I mean that every person is expected to wear a mask everywhere in public.  Whether someone is walking down a street, shopping in a grocery store, walking into a restaurant, or even driving a vehicle, that person is expected to wear a mask.
Although the entire country is under a mask mandate I noticed that not everyone was following this law in the state of Quintana Roo.  I traveled to the island of Cozumel, to Cancun, Playa del Carmen, Akumal, and the island of Holbox and in some of these locations, people were strictly following the mask mandate.  However, in other locations, the mandate just seemed to be a second thought.
I spent the first two weeks of my trip on the island of Cozumel, and during my time there I would say that approximately 95% of people were following the mask mandate law.  I almost never noticed anyone outside of their home without a mask.  Even when I was walking around the streets I was shocked to see that just about everyone was wearing a mask (I was shocked because so many people in my home state of Florida have been protesting any sort of mask mandate).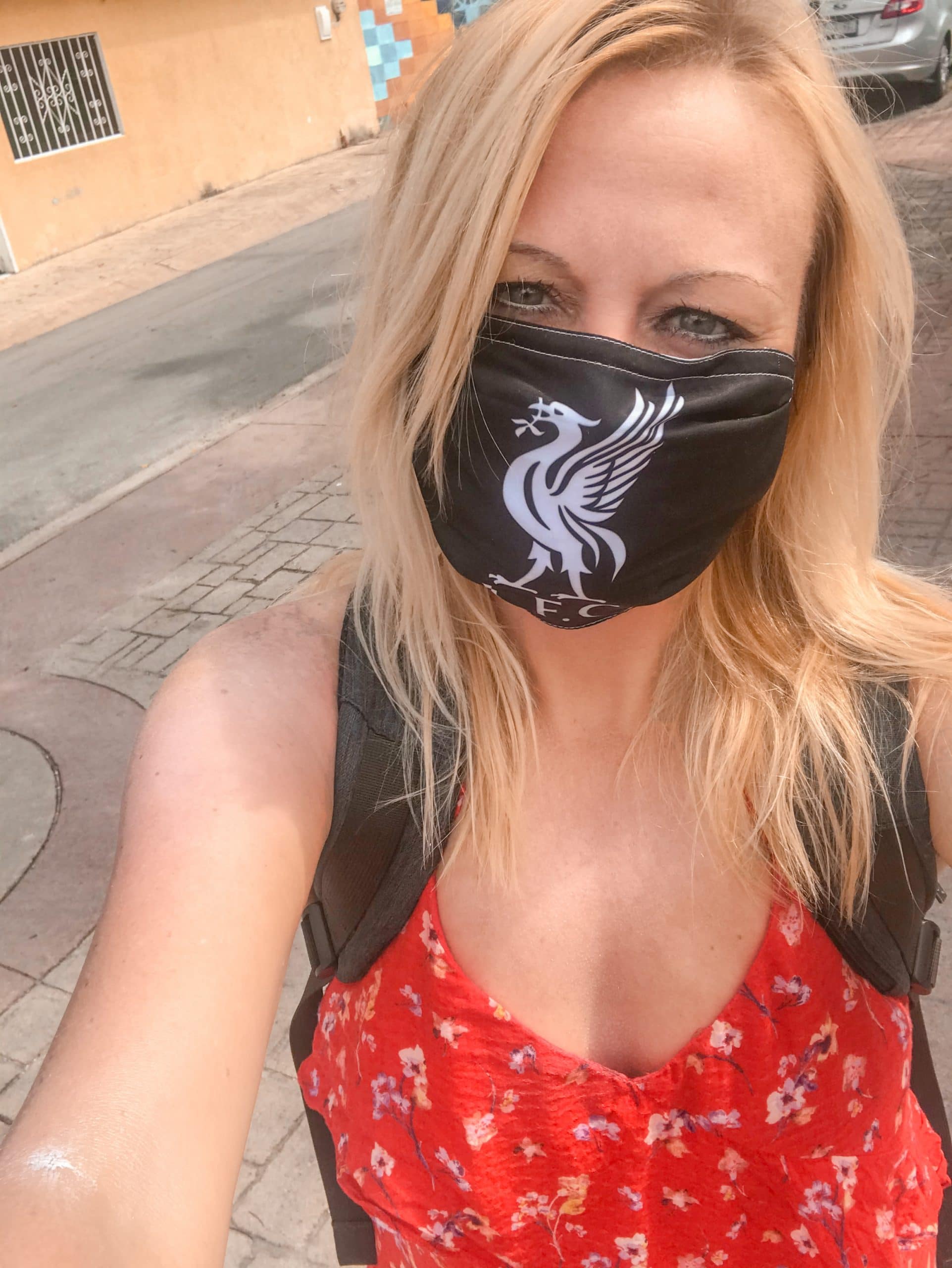 I wore a mask everywhere in Mexico even when walking along the streets.
I spent some time in Cancun next and about 80-90% of people were following the mask mandate law in the city.  I even attended a show where the performers were wearing masks.  Everywhere I went in Cancun and Cozumel the mask mandate was enforced at restaurants, grocery stores, hotels, tour companies, etc.
Next, I spent some time in Akumal, Puerto Morelos, Playa del Carmen, and the island of Holbox.  I would say that about 50% of people in these areas were wearing masks.   When I was in Cozumel the locals told me that the police would stop them if they weren't wearing their mask properly but in Playa del Carmen so many people were walking around without a mask.  I noticed plenty of police officers driving around in these cities/towns but not one officer was enforcing the mask mandate.
I will mention that in any public shopping area, in grocery stores, hotels, and upscale restaurants all employees were always wearing masks.  In smaller and in more local restaurants, a lot of people would skip wearing masks so if you're traveling to Mexico, keep that in mind.
The mask mandate was strictly enforced when I entered the Cancun International Airport, the shopping centers, grocery stores, and the ferry to Cozumel from Playa del Carmen (as well as the return ferry).  The mask mandate was also mostly enforced with the tours I booked and when I stayed at an all-inclusive resort in Cancun the mask mandate was strictly enforced.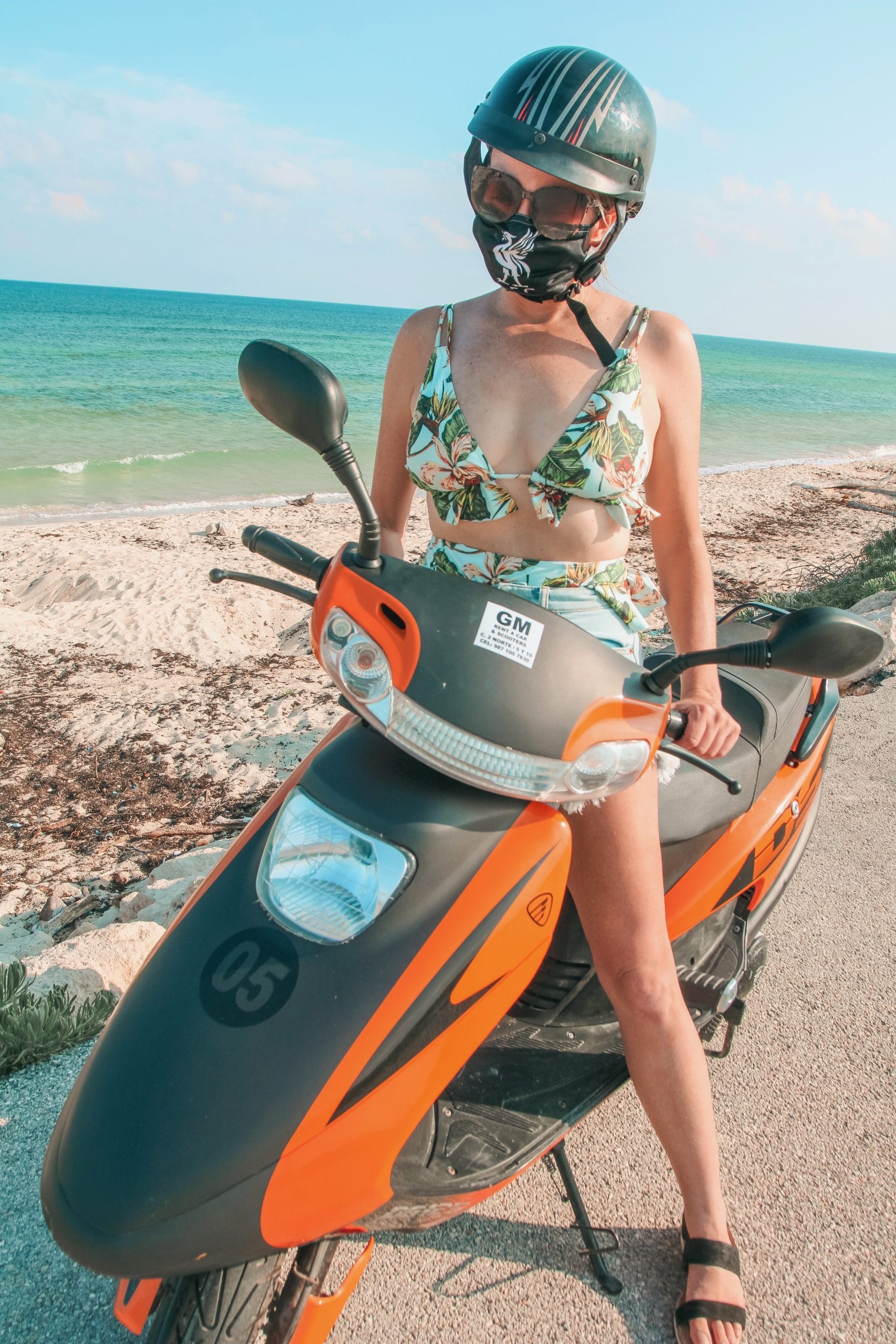 Make sure to bring a few masks with you to Mexico because it's mandatory to wear one out in public and I did end up losing a few while traveling.  It helped to have a few extra masks in my suitcase!
Social Distancing and Temperature Taking Measures
Just as there is a nation-wide mask mandate in Mexico all public establishments are expected to take temperatures upon entry and enforce social distancing measures.  If you travel to Mexico you will notice many signs outside in public areas just as the ones I have below.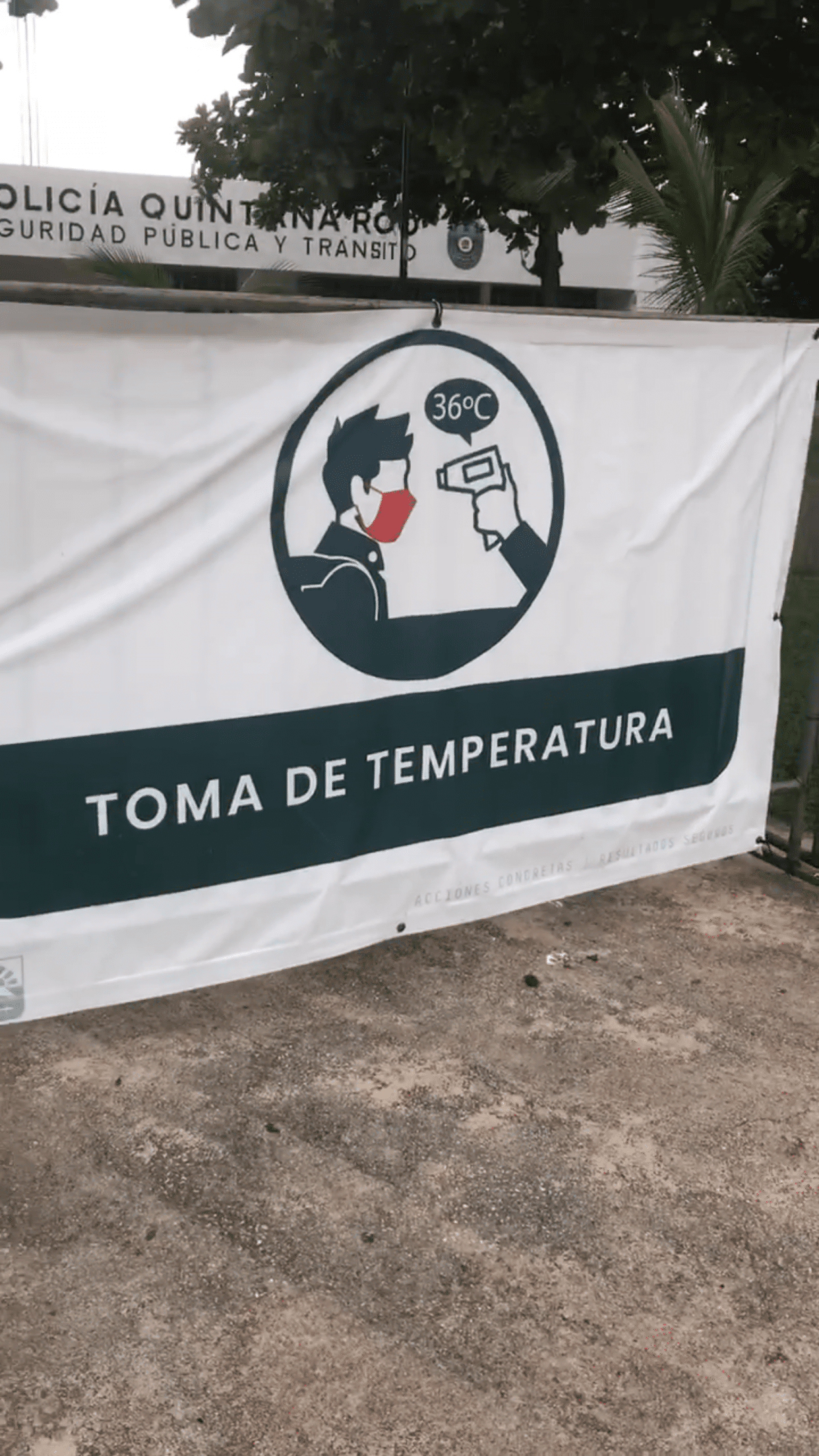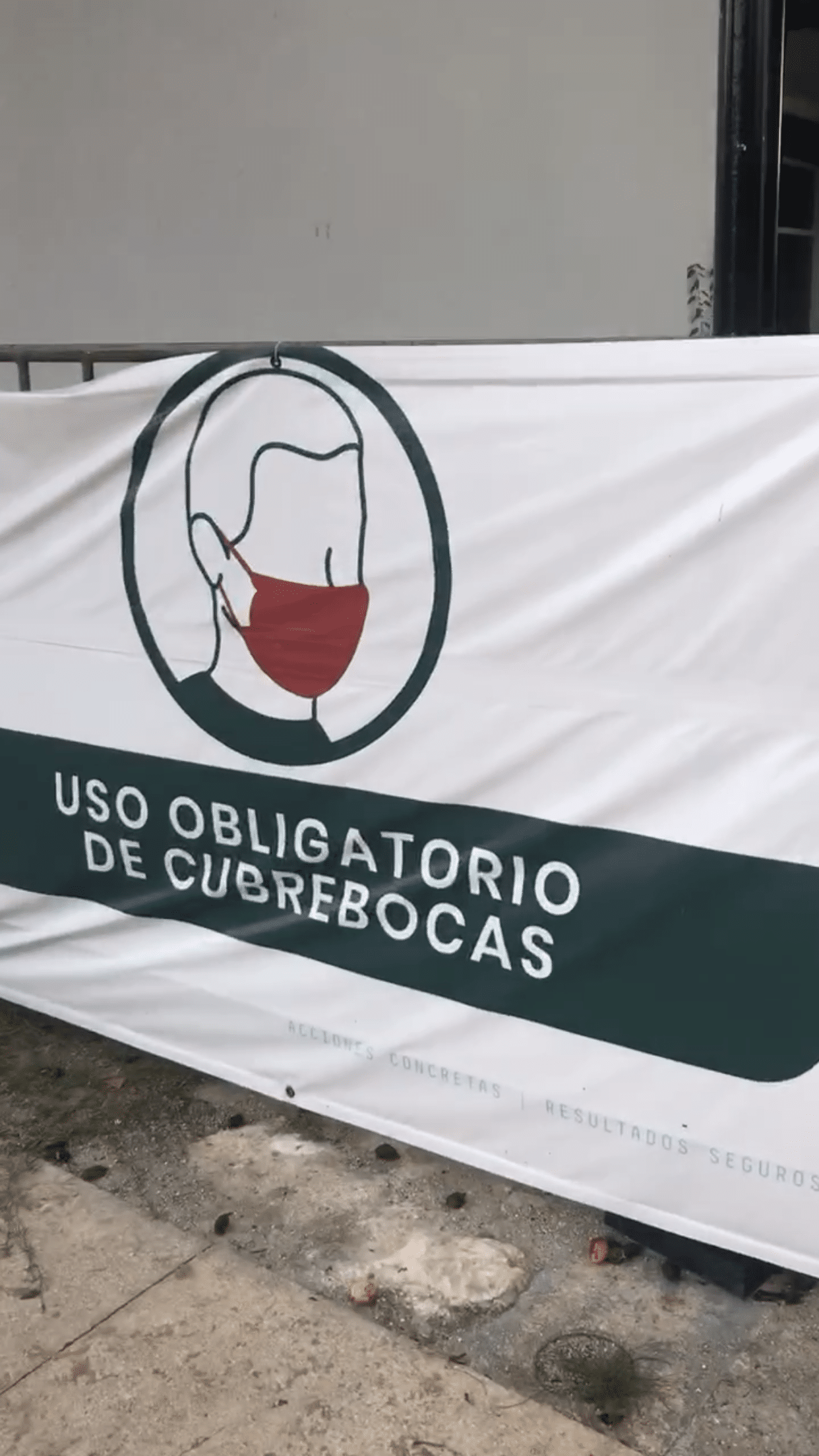 All public establishments will have COVID-19 precaution signs inside.  In Quintana Roo these signs are usually listed in both Spanish and English.
Every public establishment I visited had hand sanitizer readily available upon entry.  I believe it is mandatory for all public establishments to have guests use hand sanitizer upon entry and to step their feet on sanitizer which is usually placed on a mat on the ground just beyond the front entrance door.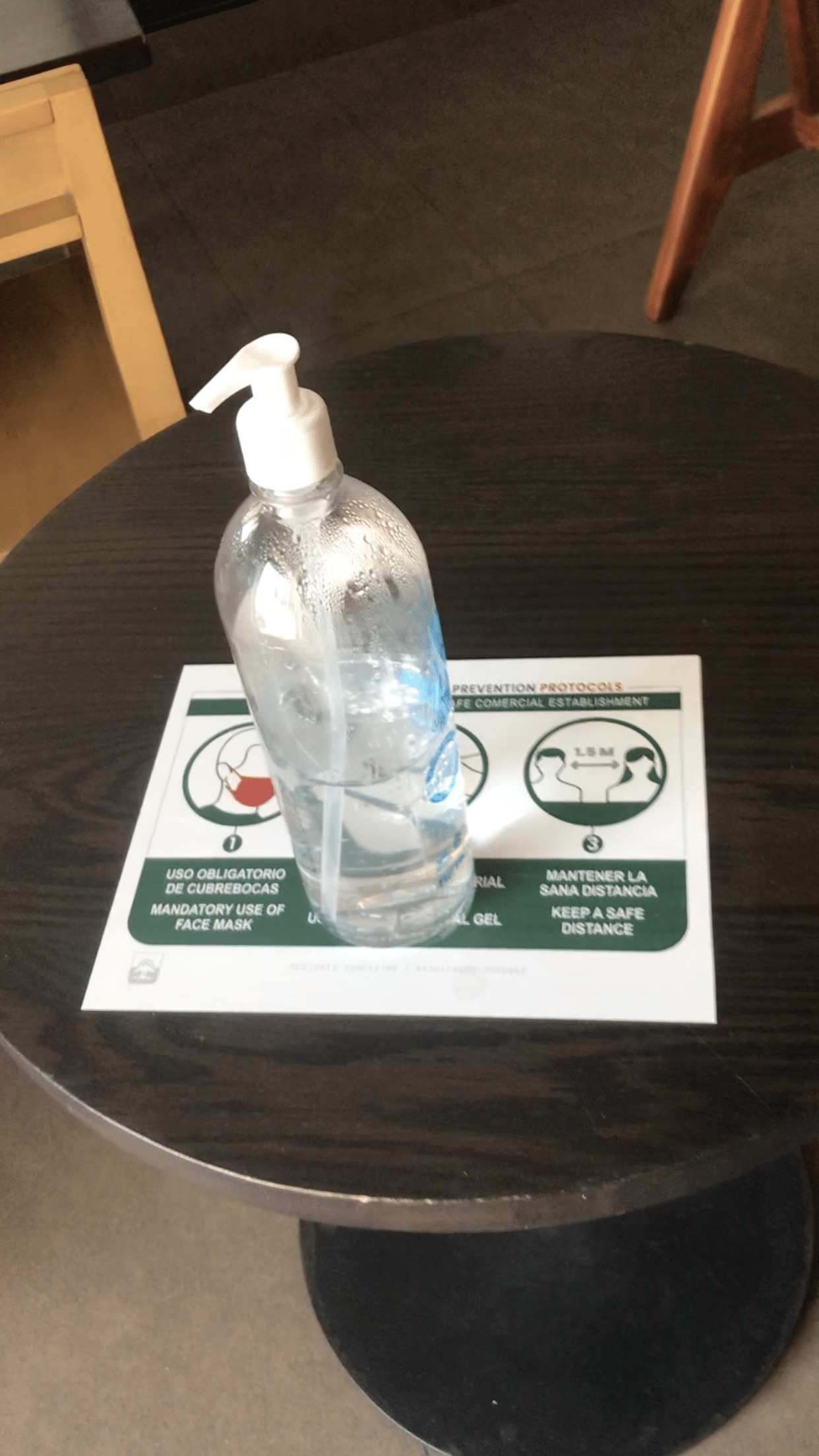 Unfortunately, not all public establishments are enforcing these mandates.  In Cozumel, almost every restaurant was taking temperatures and there was usually someone at the front entrance holding a bottle of hand sanitizer.  I went to one beach bar where they had a fancy high-tech machine that took my temperature.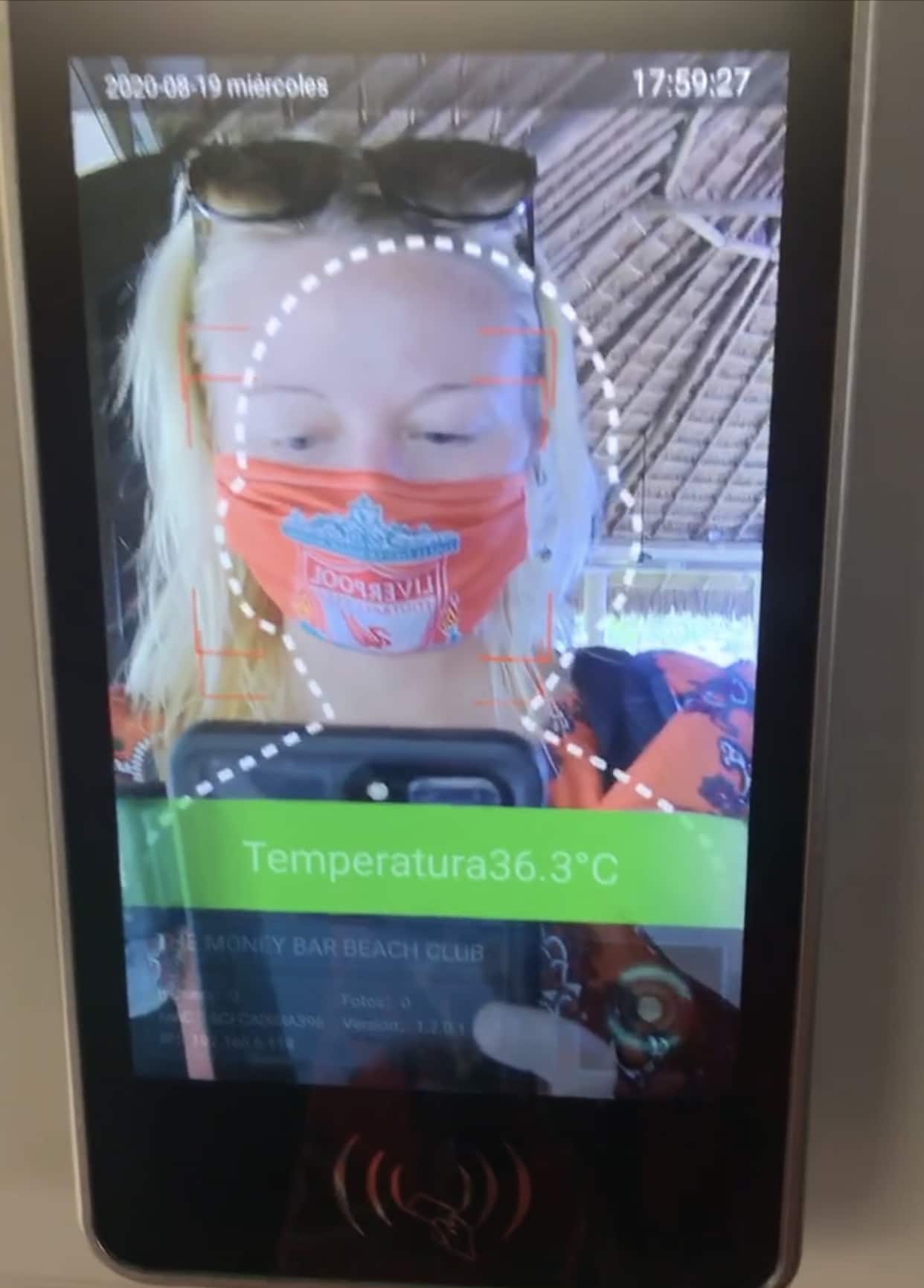 I was very impressed by the Money Bar Beach Club in Cozumel which had this fancy thermometer taking temperatures upon entry.  
If you visit any of the restaurants at the major hotels and resorts or the fancier upscale restaurants in Quintana Roo then you will have your temperature taken upon entry every time.  However, at small local restaurants, they are hardly taking temperatures or handing out sanitizer.  The sanitizer is available everywhere but at many small establishments, the use of the sanitizer is not enforced.
Hotels and Resorts:  COVID-19 Precautions 
For a few days in August, I stayed at the Riu all-inclusive resort in Cancun and they were strictly enforcing all COVID-19 precautions.  I have been told by other travelers that all major hotels and resorts in the Riviera Maya are enforcing these same precautions.
Upon arrival at the Riu Hotel Cancun, I was advised to use sanitizer on my hands and feet and I had my temperature taken by a high-tech standalone machine.  When I checked in at guest services there was a clear barrier shield in between myself and the hotel staff.  The staff also advised of all COVID-19 precautions which I needed to follow during my stay.  It was mandatory to wear a mask everywhere on the property except while eating and drinking or while swimming.  All guests were complying and following this mandate.
I had one other hotel stay experience in Mexico as at the end of August, I stayed at the Del Sol Beachfront Hotel in Akumal.  However, I had a very different experience at this hotel.
Akumal is a small beach town located in between Playa del Carmen and Tulum along the coast of the Riviera Maya.  Akumal is usually a busy tourist hotspot because it's one of the only places in the world where people can swim with sea turtles.  However, it was so quiet when I was there and during my 3-night stay at my hotel, I only noticed only two other guests.  It was so quiet that the restaurant at my hotel was closed and the management was offering contactless check-in.  I didn't need to have my temperature taken and social distancing measures weren't enforced because there just weren't any people around.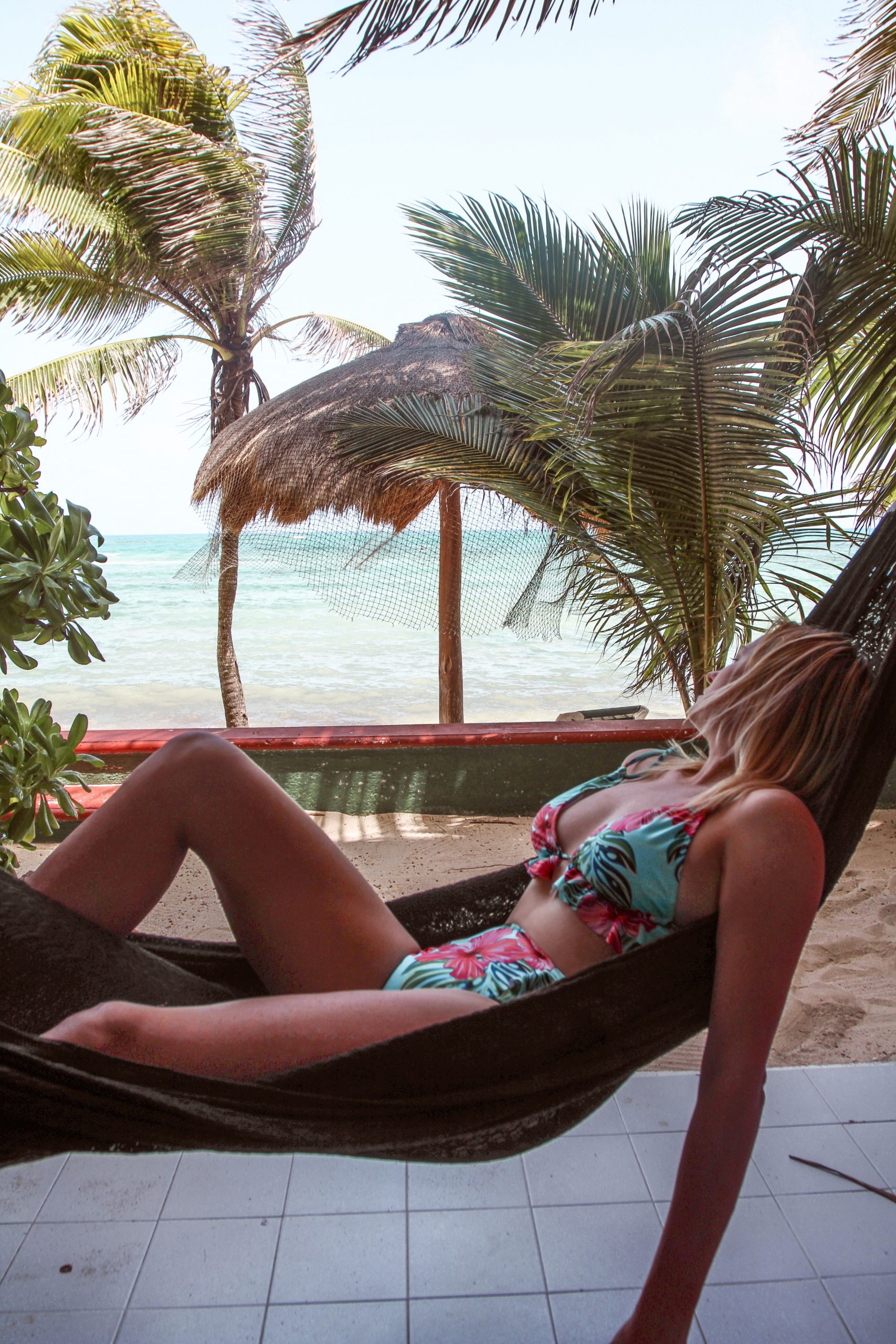 Social distancing in my hammock at the Del Sol Beachfront Hotel in Akumal. 
Airbnb:  COVID-19 Precautions
Airbnb is my accommodation of choice because it's nice to book a home or an apartment while traveling long-term.  I'm also usually able to find much better deals on accommodation by booking on Airbnb rather than by booking a hotel.
I booked an Airbnb apartment for two weeks in Cozumel and another Airbnb apartment for almost two weeks in Playa del Carmen.  Once again, my experience in Cozumel was that the Airbnb owner was taking more COVID-19 precautions than in Playa Del Carmen.  As a whole, the island of Cozumel seemed to be taking the pandemic more seriously than anywhere else I've been to in Mexico during this time.
I loved my Airbnb stay in Cozumel and I highly recommend booking this place if you visit the island as the owner highlights a lot of COVID-19 precautions in the listing.  The owner offered contactless check-in and she explained the sanitizing measures she was taking for all guests.  Moreover, the owner advised that she does not allow for guest check-in on the same day that another guest would check-out.  Due to COV ID-19, the apartment remained vacant for 24 hours prior to guest check-in and these precautions made me feel comfortable about my stay.
I also enjoyed my Airbnb stay in Playa del Carmen but the owner of this apartment wasn't as strict with their COVID-19 precautions.  The owner highlighted the sanitizing measures in the listing but there was no mention as to how long the apartment would be vacant before a new guest would be able to check-in.  However, this Airbnb listing offered contactless check-in as well.
Tour Companies:  COVID-19 Precautions
I reached out to a lot of tour companies prior to my trip and during my trip.  I ended up booking 5-day trips with 4 different tour companies so I have a good idea as to how the tour companies in Quintana Roo are handling this pandemic.
When I initially reached out to tour companies at the end of July and in early August I was advised by many that they were only running a handful of tours.  At that time, almost all of the Mayan ruins were closed such as the famous Chichen Itza.  However, all of these Mayan ruins have reopened during the month of September.
Also, many of the tour companies didn't have enough bookings which is why many of the operators weren't offering all of their usual tours.  Many operators advised that they were only offering private tours with a minimum of two guests.  This wouldn't work for me since I was traveling alone for most of the trip, therefore, I mostly had to find operators which were offering group tours.
The tour operator I felt was taking the most precautions was Cozumel Cruise Excursions.  As I've mentioned throughout this blog post, I felt overall that the people in Cozumel were taking the most precautions during this pandemic and Cozumel Cruise Excursions did a fantastic job enforcing all of these precautions.  Not only did the company have a great handle on this pandemic but they also had fantastic customer service and I loved my tour guides!  You should note that I didn't receive a sponsored tour or a discount from this company.  I'm only recommending them because I was very happy with my tours and I highly recommend booking with them if you do visit Cozumel.
I booked two tours with Cozumel Cruise Excursions.  The first tour was a private jeep tour.  Other companies were offering a group jeep tour but Cozumel Cruise Excursions was strictly enforcing social distancing rules and they only offered a private jeep tour which took me all over the island on a day trip.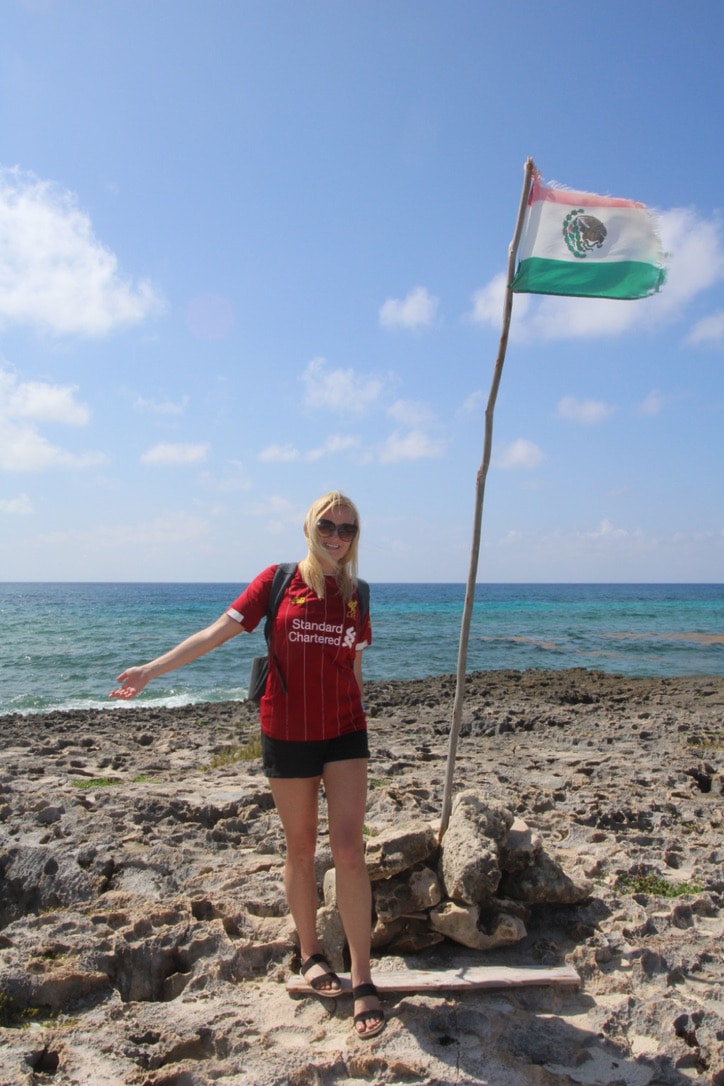 My Cozumel jeep tour guide took me to remote parts of Cozumel and it was easy to social distance from everyone during this private day trip. 
The second tour I booked in Cozumel was a snorkeling tour to El Cielo which is the most famous beach on the island.  Snorkeling tours offer the best opportunity for social distancing even if it's a group tour that is booked.  If you visit Mexico during this pandemic I highly recommend booking a snorkeling tour in Cozumel or anywhere else in the Riviera Maya.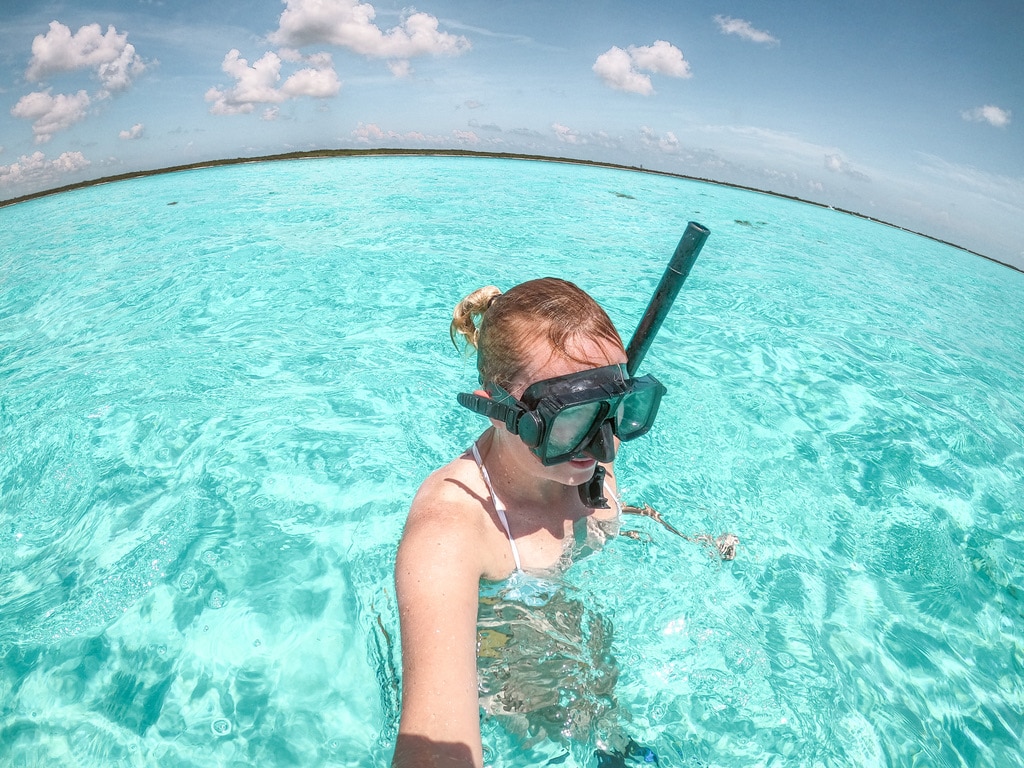 I also booked two different day tours from Playa del Carmen with two different companies and I booked a day tour from Cancun.  The law in Mexico advises that tour companies are supposed to operate at 50% capacity only.  All of the tours I booked involved boat excursions and every company I booked with was operating at this capacity on their boats.
However, most of the companies were not operating at 50% capacity with their transfers.  When the vans came to pick me up from my accommodation in the morning they were mostly full until we arrived at the boat dock.  I found this to be disappointing considering that most of the tour companies were advertising their social distancing measures.
Accessing tourist sites and beaches
The Mexican government had the entire country under a strict lockdown from mid-March until early June.  Once the lockdown was lifted only part of the country was re-opened and the tourist sites and beaches have been opened in stages.
The public beaches in Quintana Roo have been closed (I've only been able to access beaches at hotels and restaurants), however, they are supposed to open during the month of September.  Also, the Mayan ruin sites in Quintana Roo and the Yucatan state have been closed up until September.  All of these sites have been opened in stages.  The most famous ruins of Chichen Itza are supposed to open during the third week of September.
Lastly, most of the cenotes are open but not all of them are currently accessible.  All of them should be open by September but this can change at any time.
Keep in mind that many of the tourist sites have a maximum daily capacity.  For example, Chichen Itza is only allowing for a maximum of 3,000 visitors per day when the site usually has 8,000-10,000 visitors per day.  I would recommend either booking an early morning tour or renting a car and arriving when these sites open.
I was able to visit a few ancient Mayan sites in Quintana Roo but these were very small sites that were either free and open to the public or located within the Punta Sur Ecological Park in Cozumel.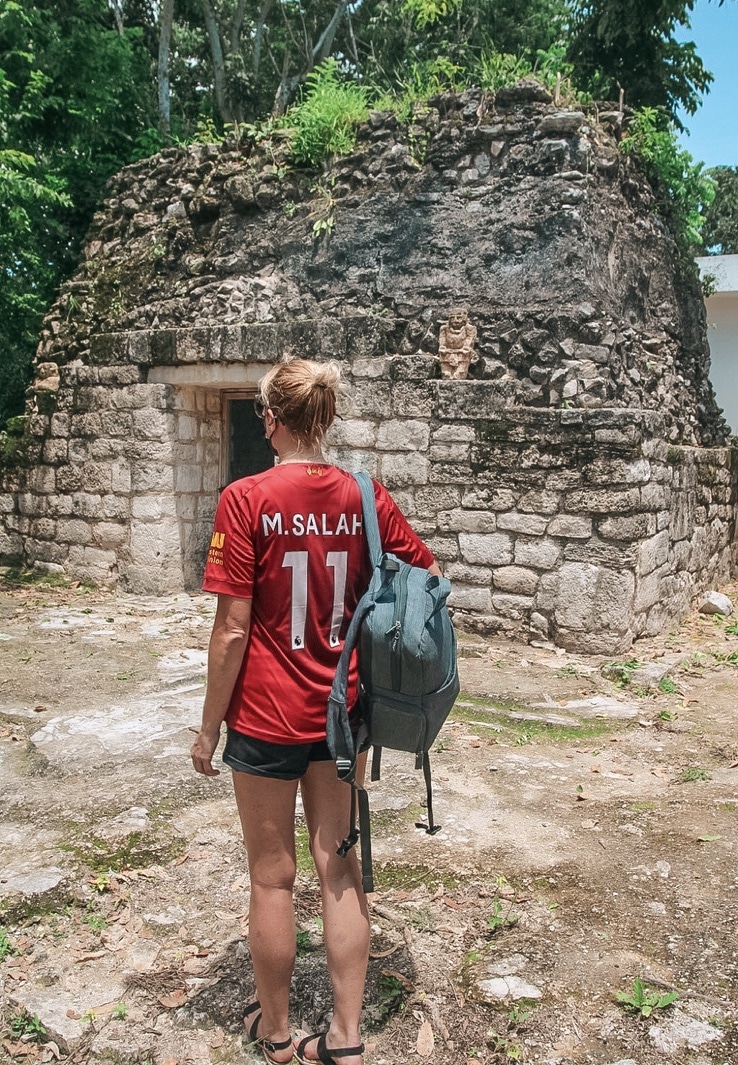 This Mayan site was completely open to the public located in the square in a small town in Cozumel.  
If you're traveling to Mexico during this pandemic my best advice is to reach out to the companies and inquire about the precautions they are taking during this pandemic. 
A lot of companies are abiding by the laws but many are not.  I would recommend reading websites and reaching out to Airbnb owners, hotel management, and tour operators prior to booking.  Ask about mask mandates and social distancing with transfers and tours.
Also, please note that the insight I'm providing here pertains only to the state of Quintana Roo.  I plan to visit both the states of Yucatan and Oaxaca in October and November and I'll report on the COVID-19 precautions being taken in those states after I've traveled there.
I was told by locals in Quintana Roo that the state of Yucatan has been much more strict than Quintana Roo.  I have been told that alcohol is not being sold in the state at all.  Not even in restaurants or at hotels! However, I'm sure that this can change at any moment.
Also, someone I'm connected with on Instagram told me that when she traveled to the state of Nayarit at the end of August that she had a much different experience than I did in Quintana Roo.  Apparently, almost no one there is wearing masks, and the only temperature checks she experienced were at the airport and at her hotel.  Apparently, local businesses are not checking temperatures as they were mostly doing so in Quintana Roo.  So I would not take my experience of traveling in Quintana Roo and assume that the rest of Mexico will be like this.
If you are keen to travel to Mexico right now then I hope that you've found this blog post to be helpful.  Please feel free to comment below with any questions and/or feedback you might have.  I understand some people wonder if it's safe to travel to Mexico and I've written an entire blog post on this topic.  After spending several weeks traveling alone in different regions in Mexico I've weighed in on the topic of travel safety in Mexico and you can read my blog post out here.
Also, if you do travel, don't forget to purchase travel insurance and make sure that your insurance includes COVID-19 coverage!  I highly recommend purchasing with World Nomads which does offer this type of coverage during the pandemic.  You can review World Nomads insurance rates by clicking here or by using the quote widget below.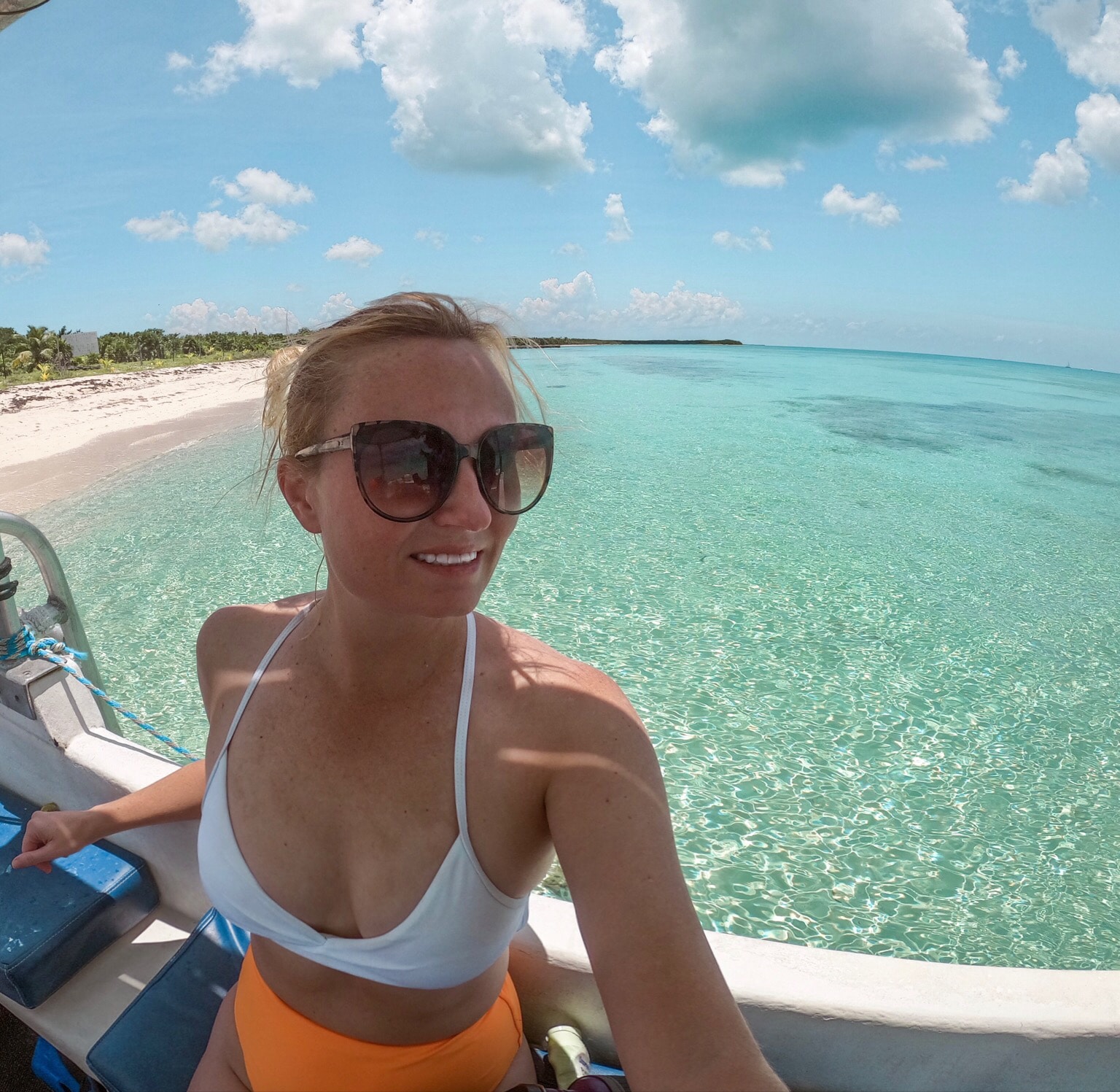 Want more travel inspiration?
Enter your email and sign up for all of my best travel advice and updates from 6+ years of constant travel.